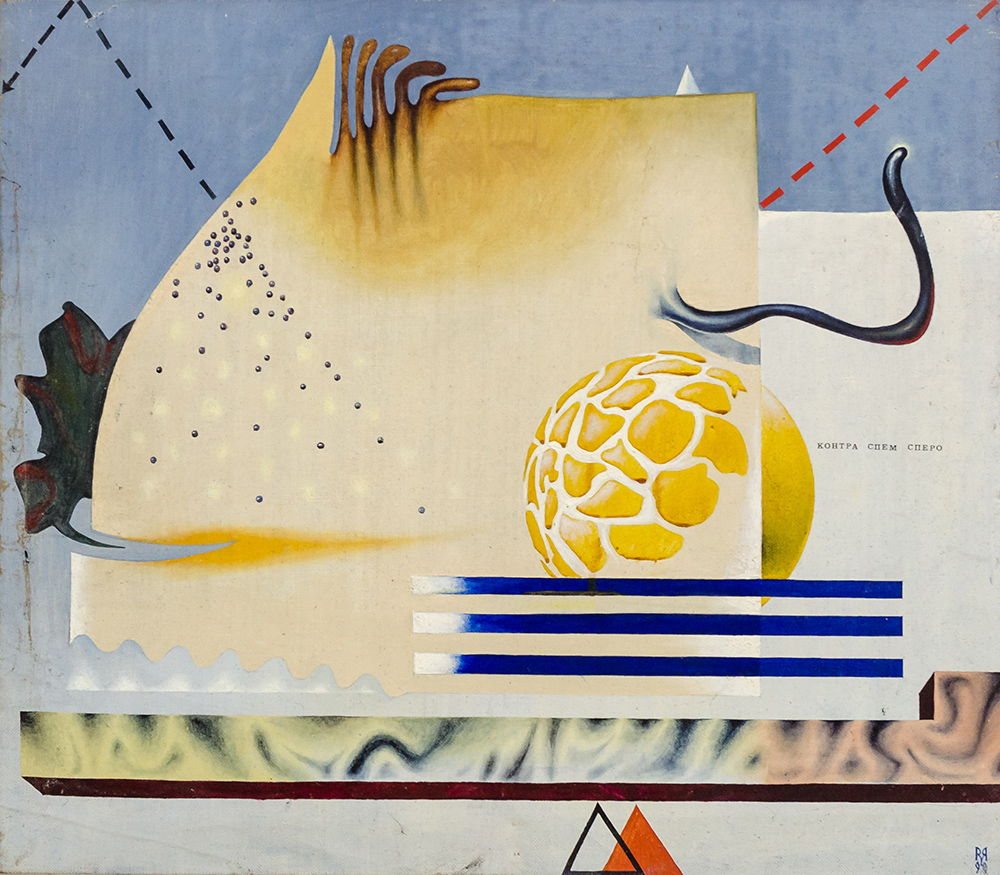 Although an artist not only doesn't have to be right but even cannot be right. However, Myroslav was right. Moreover, he was right on different levels. A few years ago, he came up with a wonderful pumpkin art project. Throughout the spring, he put high-quality pumpkin seeds into all kinds of larger and smaller city flower beds, into all kinds of scraps and crevices of living land downtown. Soon the pumpkins began to sprout. If everything went according to the plan of the long-term performance, then in the center of our slightly neat, but rather mutilated city, a very lively phenomenon would unfold, directly embodying the idea of ​​contemporary art. The pumpkins would sprout with their long shoots, crawling over the curbs, sledging along the sidewalks, climbing the trees and fences, then for almost a whole summer month the shoots would be covered with a crazy yellow blossom, and then, until late autumn, they would swell, changing shades, bigger and smaller fruits. Clearly, in some places, one would have to cross those vines. But life in the city would be more interesting and beautiful, livelier and more artistic. That year had a chance to grow a nice memory. Myroslav was right.
And he was right on different levels.
Hoping for how good things could be, he understood how unnecessary art was in a city where consumption dominated.
The most relevant art, the one which works best, has no instructions for use and no commercial value, it inspires anxiety because it is unclear how to understand, explain, and preserve it. Consumerism, however, can embrace mastery—a skill to be learned, achieved, and passed on, that reproduces past benchmarks. Therefore, by the way, exhibitions of all kinds of miniatures, various churches in bottles, and parsuna portraits on the point of a needle remain the most liked art events in our provincial cities. And what mastery can be found in randomly poked and unkempt pumpkins…
In any case, the utility services worked professionally. Planting elegant flower beds with original seedlings, they pulled out all the contemporary weeds extremely carefully. By the way, during those days they themselves—without realizing it—contributed to the implementation of a large-scale art project. The snowy and icy city sidewalks, where you have to walk in a special way, are the maximum of the interesting uselessness, the ontological rasp, the "icicle" on which you can glide a few meters on your way to the market, they are what contemporary art can be.
After long and systematic field research, I became convinced that localities, places, and cities with no visible manifestations of contemporary art are dreary.
Even if they are nice, comfortable, valuable, significant, colorful and lively. Even if they are melancholic, they are still dreary. Everything turns into a supermarket with many departments, where there is everything that can be consumed in different ways. In particular, bestsellers, antiques and decor, pictures and analytics, extreme and relaxation.
For the area to become lively, there must be a few who can do nothing but invent something clumsy, something incomprehensible, something priceless and unmarketable.
That is, we need those who can give dreams and not sleeping pills.
In any form of material, but right among everyday people. Only peace—an unknown creation—gives insight into the total anxiety of shared consumption. Fiction, a children's-elderly-animal-plant play of at least a few persons give meaning even to those who hardly notice them. Like a new testament—to an old one. Like a question—to an answer. Like mercy—to justice. Like monks—to the continuation of life.
In fact, this is what everyone is waiting for, even the most boring, the most 'good', the most skillful and the most needed ones. They are waiting for something miraculous to break into their day, even for a few minutes, something about what they can tell someone who has not seen it. Tell with delight, condemnation, fear, doom, surprise, mockery, or judgment.
Once I met Paweł in the Hutsul region. Paweł, indeed, is one of those few speechless preachers of the miracle of co-creation here and now. Everything he passed by turned into art. Everyone who met him for a while gained a clear look, a smile, an open mouth or wrinkles on the forehead. And he just wrapped himself in carpets, put logs upside down, walked through barriers, built bridges over moats from sticks, undressed a woman on the frozen cliff of Pysanyi Kamin, sculpted figurines from the mud… Like St. Francis.
By the way, Paweł is Althamer, and Myroslav is Yaremak.
Main image: Myroslav Yaremak, Contra Spemspero