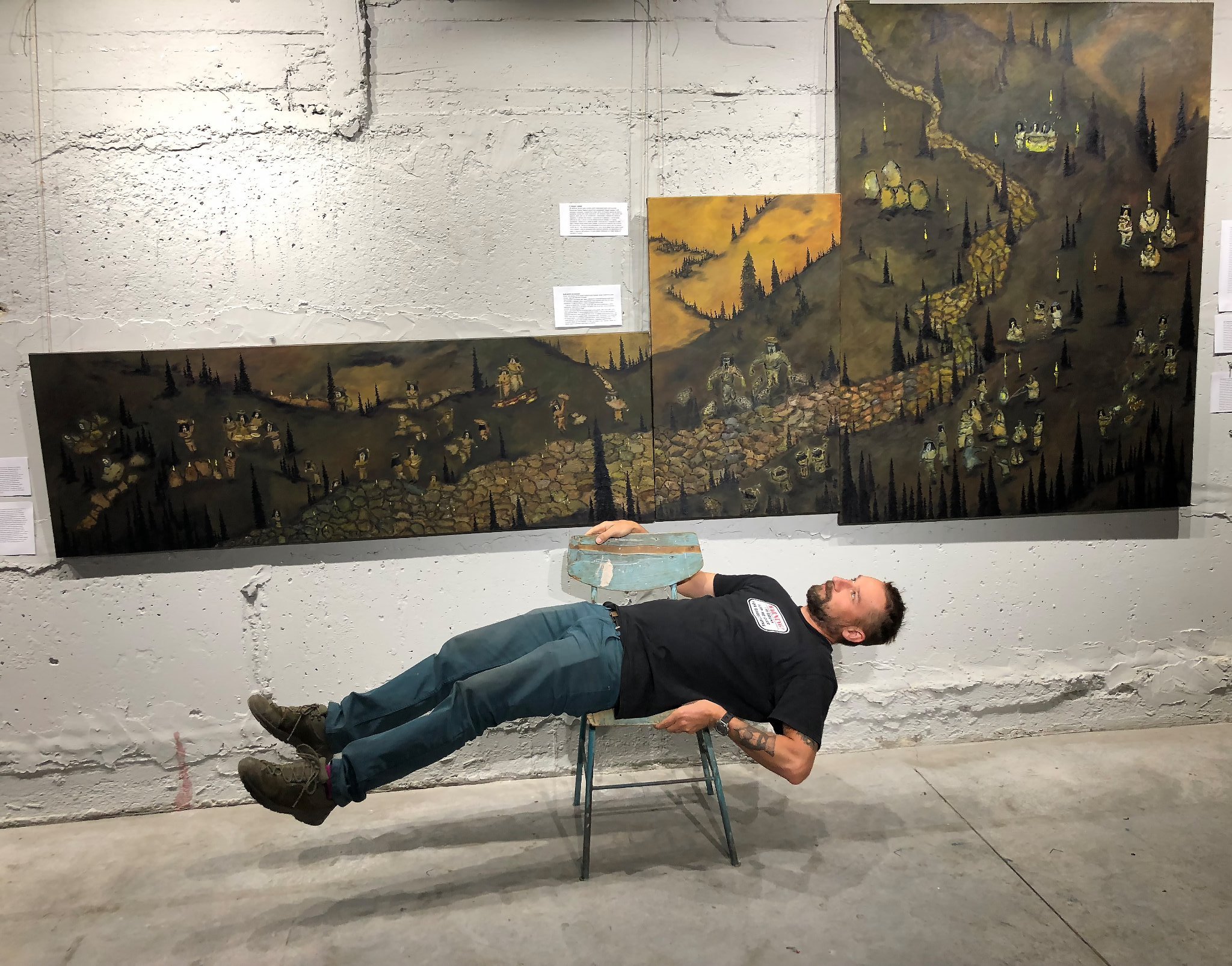 Petro Buiak is an artist, musician, traveler, and photographer who, despite denying most of these definitions, leaves his deep traces on the paths of Ivano-Frankivsk with each of his passions.
Born in 1981 in Ivano-Frankivsk, he has not left the city ever since, except for a few grandiose trips, either by his motorcycle, bicycle or hitchhiking, which he creates for himself and successfully completes. And between his trips, Petro paints, invents stories, repairs motorcycles, and drinks beer or something stronger—in short, lives to the fullest.
With the full-scale Russian invasion of Ukraine, Petro was mobilized to the army. He was wounded by artillery fire at the frontline and has now returned home for rehabilitation. Petro doesn't want to talk about the war, but he tells about himself with ease, irony and a knack for inventions that have never disappeared.
---
I don't consider myself an artist. As for me, an artist is a person who masters the technique perfectly and can professionally convey what he or she intended to. I'm kind of an impostor: I call myself an 'image creator'.
I create images, and what they turn out to be is not of great importance to me. However, they must have a great story behind them: who are these characters, how did they live and what did they do?
Thus, I fill my pictures with stories that I invent myself. But I don't like being defined as 'fabulist' or 'tale-teller'. Because in fact, it's difficult for me to impress the audience in a live conversation, it's easier to write a story in which I can tell everything I have planned truthfully and in detail. Later, a person will read and analyze it without my presence, leaving through my story and contemplating the picture.
Please tell us when and why you started painting. What gives you inspiration for creating your images? Is someone helping you?
I don't know why I started painting. This thought appeared in my mind—to express myself through pictures, and that was it. It happened not so long ago, in 2015. At first, I drew pictures 'just for myself' but after meeting Taras Keb, who helped me organize my first exhibition, I became even more interested in painting.
I can't say where the idea to paint on Hutsul themes came from, otherwise, I would reveal my 'Judeo-Masonic' relatives. In fact, it was my Judeo-Masonic relatives who taught me how to successfully promote any kind of bullshit. My dear Judeo-Masonic uncle helps me the most: he secretly finances all my projects in his Masonic way.
There's one thing I can say for sure: I have no relatives among the Hutsuls, I have zero of their blood in my veins.
'Judeo-Masonic' relatives are serious equipment, and you don't really look like a Hutsul. And what about the origins of Petro Buiak in the artistic gang of Ivano-Frankivsk—when and how was Petro born as an image creator?
When I was young, I was very fond of photography. I liked to watch all kinds of 'stupid' movies, such as art-house, and listened to alternative music. All of that influenced me and I became interested in photography. I took pictures of everything around me. As they say now, I scanned the city. Especially after drinking and partying with my friends: I happened to puke in different corners of the city, and there my eye immediately caught some scenes on the film of my FED camera. In 2006, I even had a group photo exhibition with my colleagues called That's Life.
Frequent parties and acquaintances with creative people led Petro to the youth art formation Forums, an NGO created in 2006 by the artists Mykola Dzhychka, Ihor Vasiuta and Mykhailo Deineha. Forums gathered creative people from Ivano-Frankivsk, including Yevhen Samborskyi, Serhii Mishchenko, Vitalii Chupak, Vitalii (Burzhui) Kovalenko, Roman Bonchuk, Serhii Hryhorian, Mariana Hlynska, Yurii Bakai, and others.
You joined Forums. What did you do at that time? Did you continue with photography or something else?
Different things happened around Forums, the organization was constantly growing with new people who came to learn to draw or photograph. At that time, I knew nothing about drawing, and I got a little bored with taking pictures, so I became interested in music.
In 2008, we found the band Franshyza, involving literally everyone from the gang, about 20-30 people. I played some two notes on a broken accordion and was the lead singer of the band. The music was created by all members of the band. It was sincere absurd schizophrenic punk from Ivano-Frankivsk. Back then, everything was easy, we shared common interests: alcohol, art, festivals, and girls.
In 2008, the punk band Franshyza passed the qualifying stage for the Chervona Ruta Festival. And one of their sensational performances took place at the group exhibition and artistic action
Greetings from Stanislav
organized in the Khymera space in 2009.
In addition to the surreal and schizophrenic performance of Franshyza, the audience had a chance to see photo collages by Yevhen Samborskyi on the walls, and also to eat a figure of a Hutsul made of Olivier salad on the table.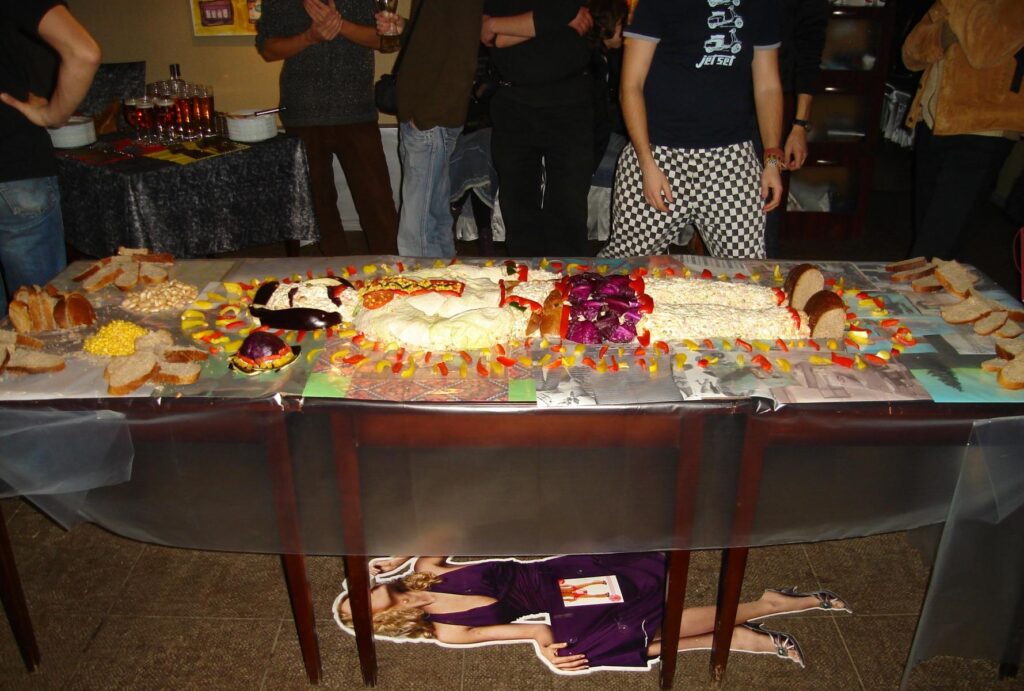 When Franshyza ceased to exist, you became interested in motorcycle culture and fell out of the artistic gang for several years. In the summer of 2013, you had one of your greatest journeys: a four-month expedition by a Dnipro-11 motorcycle with a sidecar, 20,000 kilometers across Ukraine, Kazakhstan, Mongolia, and Russia aimed at telling people in Asia about Ukrainian culture. Did you have any trips after that? And what is the philosophy of your traveling?
Traveling is an interesting thing. I traveled by bicycle, motorcycle, and hitchhiking. I love traveling alone, I enjoy it more this way. When you have company, it's no longer about traveling, it's more like going out to a bar together for a beer. And if you want to really enjoy your trip, better to go alone, or at most with one more person.
I never travel to see architecture or visit museums, for example. I'm interested in going to a bar, drinking with local people, eating their local food, and talking.
A momentous trip for me was hitchhiking to Europe (Sweden, Germany, France, Italy, the Czech Republic and other countries)—a 'beggar tour', for which all those willing donated money. At that time, I managed to collect a few, because I sincerely wrote that I would drink and eat for them. Also, I had an 'alcohol tour': I went to all the most creepy pubs in Zakarpattia, where I drank 50 grams of something strong, ate a sandwich and talked to various drunkards, and then drove on. That's how I spent the donated money for drinking.
In 2019, I went on a bicycle tour—more than 500 kilometers in a couple of days on a women's bicycle with no gears. Me, my bicycle, and a backpack with a tent in it. My trip started in Ivano-Frankivsk, then Kolomyia, Chernivtsi, Ternopil and back to Ivano-Frankivsk. It was a cool trip because I met my old friends everywhere, with whom I drank in bars, or brought beer to my tent and got drunk alone in nature, that was life! I looked in my pocket to check if I had any money for beer the next day, and if I did—it was a real buzz!
Now I don't think anything ahead about traveling. Two years ago, I planned two ambitious trips, but COVID-19 and quarantine ruined everything. I realized that the world cuts it off: there is no point in planning something precisely and reliably. If you can do something, then just do it and don't wait for the next month or year.
Let's return to your image creation. In 2015, you appeared as an artist. Five years later, you had an exhibition of paintings in the window frames of an abandoned dairy shop, the project The Adventures of Mr Potocki in Stanislaviv, the GAK gallery (an acronym for Ukrainian 'Gallery of Awesome Pictures', also meaning 'a hook'). Subsequently, collaborative projects with Mox Perkalaba appeared: the research project and expedition Deep Hutsulia, Real Truth About Jesus and the 12 Apostles, Real Truth About Rock-n-Roll, and Real Truth About Criminal Galicia. In 2020, you presented a series of restored artworks Ten Troubles and Tombstone Herbs and a series about the powerful Hutsuls Great Shepherds. Please tell us more about GAK, working with Mox, and what you are working on right now.
During another drinking session, an idea came to my mind: to hold some kind of 'alcoholic meetings' in my studio (back then it was located downtown) under the pretext of opening an exhibition. And my colleague, gallerist Ostap Brynskyi suddenly shouted: "GAK!". I asked: "What hook?" And he said laughing: "Gallery of Awesome Pictures!" That was how GAK appeared.
Founded by Ostap Brynskyi and Kirill Kirillov, the Gallery of Awesome Pictures was active for about two years. It emerged as an alternative platform in the artistic environment of Ivano-Frankivsk for young artists with no complexes. The GAK gallery displayed artworks by Kirill Kirillov, Didyks, Khrystyna Pyshch, Bob SP, Serhiy Hryhorian, etc. Later, artists from other regions of Ukraine became interested in the gallery, including Taras Keb, Andrii Khir, Ivan Semesiuk, Stanislav Sylantiev, Olexa Mann and others.
When I had to leave my studio, GAK moved to Barduck bar, and all subsequent exhibitions took place there on Fridays. Then there was the GAK tour (Lviv-Kyiv-Uzhhorod). The gallery made its afterword in the Vagabundo gallery: the hook itself, as a symbol of the awesome picture, remained alive in the underground archives of the city.
We invited artists to exhibit in GAK ourselves. We were looking for something naive and avant-garde. But it also happened that some artists asked to present their works, even some kind of landscapes, and the gallery refused them, and they took offense. Actually, there were rules that the gallery strictly followed, and which made the life of the three of us, gallerists, much easier:
GAK reserves the right to exhibit no more than one piece of the artist. An exception may be a diptych, triptych, or series of works, from which it is impossible to exclude any not to lose the meaning of the series display.

GAK reserves the right to ask living artists only three questions, and the dead ones—more than three.

GAK reserves the right to hold exhibitions more than once a week or less than once a week.

GAK reserves the right to use the obscene language both in oral speech and in writing.

GAK reserves the right to refuse anyone to hold an exhibition and to invite anyone to an exhibition.
Each opening of the exhibition at the GAK gallery was accompanied by intrigue—a picture hanging on a hook from a construction crane was covered with velor fabric and no one knew what was under it until the opening. And did gallerists start a conversation with the creator of the picture?
Yes, we did a GAK interview with the artist. It consisted of three questions because the acronym GAK is three letters, which means three questions. But this rule applied only to living artists. More than three questions could be asked of dead artists who were also successfully hanged at GAK. There are always more questions to the dead. The book Model Series. Chronicles by Rostyslav Shpuk contains one such interview with deceased Parfion. In order to talk to him, we then arranged a real spiritual session.
As for the series of artworks with Mox, it was a collaboration. We sat, talked, studied particular topics in depth and transferred all this to people. But for me, all those projects are already in the past, and I don't actually have any of those works anymore. Because I have never refused to exchange my artworks for money with someone and I have never refused to give them as a gift to someone.
Now I don't want to say anything about my future plans for image creation, because it makes no sense to say something and then not do it. The world is not yet ready for my ideas. When it is ready, then it will see their embodiment.
Okay, Petro, let's not talk about the past. But I would also like to mention that in 2020 you were included in the Catalog of Naïve Art of Ukraine as part of the Naïve online festival for naive art.
Як я вже казав, мої родичі «жидомасони» мене туди просунули. 
See how I managed to trick them! I like naïve as a type of visual art. But it is not for me to decide whether my artworks belong to it. As I mentioned before, it was my 'Judeo-Masonic' relatives who brought me there.
And my final question to you: what do you think about yourself and also about Ivano-Frankivsk, where you live and hang out?
I'm an impostor and drunkard, an image creator who usually comes to exhibitions and immediately looks at the buffet table, whatever hangs on the walls.
Because, in fact, all these exhibitions are about chatting with like-minded people, when you can have a good drink and something to eat. I say this openly, and those from the artistic community, who are afraid to admit themselves as such, are simply lying.
I was born in Ivano-Frankivsk and have lived here all my life. I have visited many cities and villages, but Ivano-Frankivsk is my hometown, where my house, land, and roots are. I feel at home here. Besides, it is the most comfortable city to live in, and many people have already realized that. Close to here are mountains, there is a lot of water around, Vovchyntsi hills, forests, and even a car market. But the most important thing is that parties and gatherings have been going on here for decades. The younger generations are replacing the older ones, who, strangely enough, don't disappear anywhere, too. And though for the last two years I have not really enjoyed painting or music, because I don't see the point in continuing to do things if they don't bring me joy anymore, but I still hang out with the local art community.
Main photo by Rostyslav Shpuk